Welcome to Anode Swap
Servicing
The Greater Perth Metropolitan Area
South West of WA
We service
all types of
hot water systems
Obligation
FREE Inspection
New
Anode
After
2 Years
After
4 Years
Call 0447 956 230 for your obligation free hot water system inspection
Anode Swap is a Perth based company servicing the greater Perth metropolitan area and the south west of Western Australia. We specialise in the supply and fitting of sacrificial anodes to all makes of gas, electric & solar hot water systems. We also replace hot and cold water pressure relief valves. We are a fast, reliable service. Call or email us for your free inspection.
Servicing Perth for over 10 years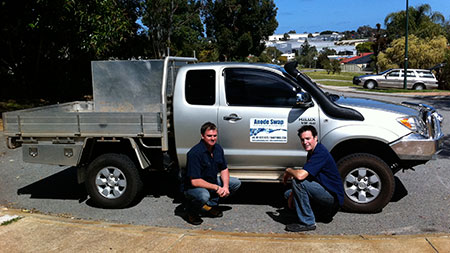 What is a Sacrificial Anode and why are they necessary?
An anode is a magnesium rod which is designed to corrode instead of your hot water system tank, hence the name sacrificial. Every tank comes with one and they usually only last 3-5 years. Once depleted, corrosion of your tank commences. Regularly replacing the anode can triple the life of your hot water system.